CBD is one of the 100 different types of chemicals in the cannabis plant called cannabidiol. It is different from the other substances in the plant, including THC or marijuana. There haven't been a lot of scientific studies about this plant, but there is a lot of anecdotal products that show its efficacy. Today we are talking about CBD and dogs.
CBD acts on the central and peripheral nervous system which helps maintain balance in the body, and keeps it in a healthy state. It may help dogs from getting seizures, control nausea, stimulate appetite, relieve stress, relieve anxiety, heart health, joint pain, allergy relief, relief from cancer symptoms, and help with gastrointestinal issues.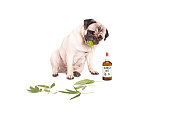 Side Effects
We do not know what level is toxic. Other side effects are dry mouth, low blood pressure, and drowsiness, lethargy, vomiting, dribbling of urine, and loss of balance. Overall, these side effects are few and relatively mild.
Discussion
There are 44 states that have legalized the use of cannabidiol. Some products you will find CBD in are dog treats, liquids, pills, and many other products.
There is a growing market for it. It is currently at above 1.1 billion dollars a year, and rising. Another source, different from the one mentioned above, said that it has been widely studied, and is safe for extended use.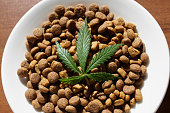 The best of CBD is in it's oil form. Don't try to price shop for it, a higher quality generally brings a higher cost. You should also verify that the product has a quality level of CBD. Ideally, the product should also be organic. Also, check to make sure there are no additives, and for analysis of the purity of the product.
You should use one drop per dogs once and day for the first week, and one drop, twice a day the second week. For treats it is 1/4 of a treat a day, the 2nd, half a treat a day, and the third week onward, a whole treat a day. Put another way, that's 1 milligram for each 2.2 lbs of dog.
Always watch your dog for side effects; stop for a week if they appear, and then restart at a lower dose.
It is important to note that you'll be own your own as far as giving CBD to your dogs in many states. Many states don't allow vets to prescribe or recommend CBD. If it is allowed however, talk to your veterinarian about it It's regulated as a supplement, not a medicine.
The product has been studied for it's benefits for both arthritis and seizures. Always start with a small dose, and increase as needed, while watching for potential side effects.
Ways to administer it is directly into the mouth, with a spoon, or a dropper. You could also place the CBD in food or in a treat. Keep in mind also, the buy CBD from a company that makes them for dogs, not for people, it could be harmful if you administer CBD that is designed for people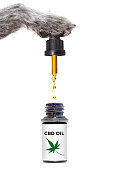 Summary
In short, CBD is a product, that, used properly help with various health problems your dog has. There are fairly low side effects, just be careful in dosing. It is regulated as a supplement, not a medicine. Also remember, it is not THC, so it will not make your dog "high". To check for high quality CBD, click here!
Feel free to leave a comment below, I will respond.

Topdogtips.com

AKC.org

Healthline.com

Healthmj.com